Live Music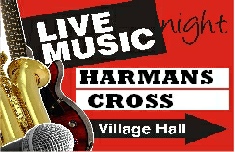 We aim to bring you the very best live musical acts in many different genres, and they can all be enjoyed in our outstanding, comfortable venue - which is one of the finest in the area, and with a licensed bar offering drinks at exceptional good prices.
Our next Live Music event is on
FRIDAY 30TH SEPTEMBER 2022
with
THE ABBA SHOW
at 7.30pm
(doors open 6.45pm)
Licenced Bar – Car Parking
The Abba Show appeared with us last September as Abba's Angels and we had a fantastic night - see the video below and the gallery of photos further down the page. More details about that event in due course and tickets will again be available from this page via Ticketsource
/i/video/Abbas_Angels_Sept21.mp4
In January, we hosted again the truly amazing Churchfitters - see the video below for a taste of this unique band - we will be getting them back for sure !!
/i/video/Churchfitters.mov
Abba's Angels Sept 2021