Live Music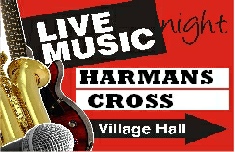 We aim to bring you the very best live musical acts in many different genres, and they can all be enjoyed in our outstanding, comfortable venue - which is one of the finest in the area, and with a licensed bar offering drinks at exceptional good prices.
November sees another fantastic evening of music courtesy of our friends at the Swanage Jazz Club with Remi Harris playing a Duo set on 30th November - doors and bar open at 7.00pm.
Remi Harris Duo
Remi Harris is a young guitarist from the UK whose unique style draws inspiration from artists such as Django Reinhardt, Jimi Hendrix, Wes Montgomery and Led Zeppelin. He has performed at the Montreal Jazz Festival, Buckingham Palace, BBC Proms at the Royal Albert Hall with Jamie Cullum in 2017, on BBC 4 Television and live on BBC Radio 2 & 3. Locally he played to ecstatic full house audiences in the Con Club at Swanage Jazz Festival in 2015 and 2016.
This Duo set features Remi on a variety of acoustic guitars, electric guitars and a ukulele, accompanied by double bass. He'll play an eclectic mix of jazz & blues, original compositions, improvisations and new arrangements of Remi's favourite tunes.
Some comments on Remi's playing:
"An extraordinary musician" Jamie Cullum, BBC Radio 2
"Astonishing stuff" Cerys Matthews, BBC Radio 6 Music
"Brilliant"Martin Taylor MBE
Tickets are £13 and are available from Swanage Jazz Club ticket office 01929 422215, or by post to 22 Streche Road, Swanage BH19 1NF, cheques made payable to Swanage Jazz Associates, or via Harman Cross Village Hall web site
Click below for tickets for Remi Harris
In December, we welcome Driftwood to the Village Hall (see info below). Tickets are available by clicking on the Ticketsource link below, or from the Spa Shop at Foleys Garage on Valley Road. Alternatively, please call Bob Bunyar on 01929 289209 who can sell you tickets.
Click below for tickets for Driftwood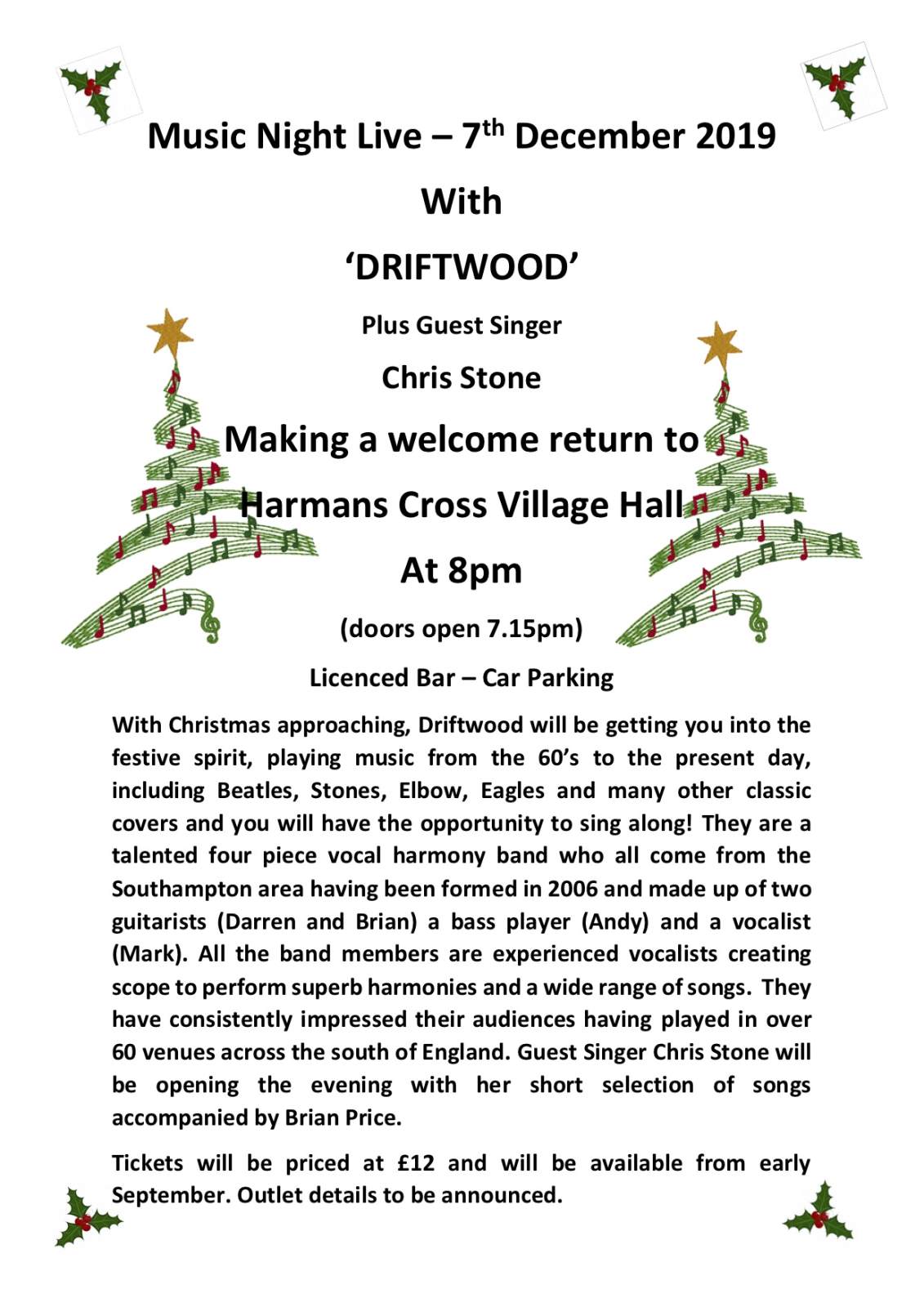 We have a pre-Christmas Special this year at the Village Hall, when we welcome the amazing Dylan Ross Quartet on Friday 20th December.
The DYLAN ROSS QUARTET has been making big waves on the Jazz scene. Dubbed the "young Sinatra" Dylan has taken to singing jazz after graduating from Andrew Lloyd Webbers' Musical Theatre School in London.
His band are some of the best musicians in the south.
Having perfected his craft on the London jazz scene Dylan returns to his family home in Harmans Cross to be joined by local singer, Miro Vosper to complete this perfect Christmas event.
All profit from the performance will be shared between HXVH and Swanage Dementia Trust. Tickets £12 from the Ticketsource website (click on link below). Enquiries to Glenn on 07815 134534
Doors 8 PM Music starts 8.30pm
Click below for tickets to the Dylan Ross Quartet
In March, we will be welcoming the amazing Churchfitters back to Harmans Cross. We have sold this event out for the last two years. Tickets will be available in the New Year so watch this space for the Ticketsource link to grab your tickets.