Live Music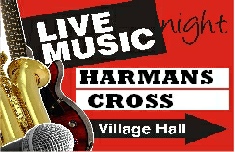 We aim to bring you the very best live musical acts in many different genres, and they can all be enjoyed in our outstanding, comfortable venue - which is one of the finest in the area, and with a licensed bar offering drinks at exceptional good prices.
Saturday 6th April
John Maddocks' Jazzmen with Sinead McCabe
The Swanage Jazz Club are proud to present the John Maddocks' Jazzmen, one of the most popular bands on the British festival and club circuits. We are delighted to add the brilliant young jazz and blues singer, Sinead McCabe,to the line-up.
The Jazzmen have their own sound brought about by the unique style of John's clarinet playing, though his musical range includes alto and tenor saxophones.
Sinead hails from Bristol and is a very recent arrival on the national jazz scene. Her range includes many of the blues songs associated with famous jazz singers like Bessie Smith and Billie Holiday.
FRED LINDOP
Doors and bar open 7 pm, music at 7.30 pm.
Ticket Sales - John Maddocks
Tickets are just £12 and are available via TicketSource (see link below), or from:
Swanage Jazz Club treasurer
22 Streche Road, Swanage BH19 1NF,
Tel : 01929 422215
(cheques made out to Swanage Jazz Associates)
Click below to access online tickets sales through TicketSource
Saturday 11th May
Hugh Budden and the Blue Chords
Hugh Budden and the Blue Chords play an exciting blend of 50's-70's Rock 'n' Roll, Soul, Country, Blues, Funk & Rock... "grown up music" as Hugh likes to say.
Hugh Budden Vocals & Harmonica
Hugh has one of those voices that is able to adapt comfortably to the wide range of songs that the band perform, added to this is his fabulous Harmonica playing that always hits the spot, whether in the form of a soulful voice, a honking Saxophone or gentle Organ backing.
Beccy Brennan Vocals
Beccy has a fabulous sultry and raunchy voice and an equally fabulous stage presence. She was first recorded at the age of fourteen. Her father was a professional singer and guitarist working with and for all the biggest stars throughout the 60's and 70's her brother Lee found fame with 90's boy band '911' Lets say it runs in the family!
Phil Astles Guitar
Front man ('Eric') with The Fabulous Duck Brothers the UKs ultimate tribute to the music of Eric Clapton (Winner of 18 Grammys, 4 Ivor Novellos & The outstanding contribution to music award), Phil's feel and appreciation of British Blues and related genres is second to none.
Harvey Hark Bass
A giant onstage and a giant on the Bass Guitar, he is dynamic yet solid as a rock, which is very apt as he comes from a Rock background ( 'n' roll, Punk, abilly, heavy etc. he's played 'em all)
Brian Wright Drums
Brian worked with Hugh during the 1990's in the multi award winning Blues Band "The Producers". He is currently a professional drum teacher and is a highly regarded "Professor" of the instruments. Watch out for his on stage antics and his love of Pasties and Bananas!!
To get a 'taste' of the band (pasty and banana flavoured !!), see them on YouTube by clicking this link .....
Doors and bar open 7.15 pm, music at 8.00 pm.
Ticket Sales - Hugh Budden & Blue Chords
Tickets are just £12 and are available via TicketSource (see link below), or from the Spa shop in Foleys Garage in Harmans Cross